News
2017-07-24
Yukie Kashima, welcome to our institute!
2017-07-11

"Inferring clonal structure in HTLV-1-infected individuals: towards bridging the gap between analysis and visualization" by Farmanbar et al. has bee published by Human Genomics.
View
2017-07-03
Welcome Reza Halabian, our new PhD student..
2017-06-27

"Sequencing and phasing cancer mutations in lung cancers using a long-read portable sequencer" by Suzuki et al. has bee published by DNA Research.
View
2017-07-14

"Serotyping dengue virus with isothermal amplification and a portable sequencer." by Yamagishi at al. has been published by Scientific Reports.
View
2017-04-21

"Contribution of Transposable Elements to Human Proteins" by Makalowski, Kischka and Makalowska has been published by eLS.
View
2017-04-25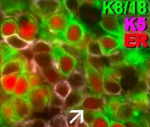 "Multicolor immuno- fluorescence reveals that p63- and or K5-positive progenitor cells contribute to normal breast epithelium and usual ductal hyperplasia but not to low-grade intraepithelial neoplasia of the breast." by Boecker / Korsching et al. has been published by Virchows Archiv.
View
2017-03-07
Congratulations to Marcin Jakalski for the successful defense of his PhD thesis.