2019-11-04

Congratulations Matias for the "Best Poster" award at the X International Conference on Bioinformatics - Celebrating the 10th Anniversary of SoIBio and 10th Anniversary of the Master in Bioinformatics Uruguay.
2019-10-03
"Statins: Complex outcomes but increasingly helpful treatment options for patients" by Mohammadkhani, Korsching et al. has been published by European Journal of Pharmacology.
Goto
2019-10-01
Congratulations to Marten - another successful Master of Science.
2019-09-16

"An integrated genome-wide multi-omics analysis of gene expression dynamics in the preimplantation mouse embryo" by Israel, Makalowski et al. has been published by Scientific Reports.
Goto
2019-08-05
"Bioinformatics of nanopore sequencing" by Makalowski and Shabardina has been published by Journal of Human Genetics
Goto
2019-07-23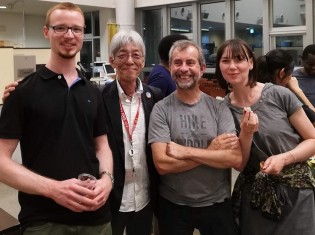 Researchers in the field of bioinformatics at Muenster University, Germany and Mr. Fujihiko Minamoto (second from left)
Goto
2019-01-24
"NanoPipe - a web server for nanopore MinION sequencing data analysis" by Shabardina et al. has been published by GigaScience.
View
Application