News
2017-07-14

"Serotyping dengue virus with isothermal amplification and a portable sequencer." by Yamagishi at al. has been published by Scientific Reports.
View
2017-04-21

"Contribution of Transposable Elements to Human Proteins" by Makalowski, Kischka and Makalowska has been published by eLS.
View
2017-04-25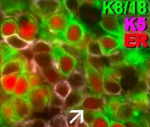 "Multicolor immuno- fluorescence reveals that p63- and or K5-positive progenitor cells contribute to normal breast epithelium and usual ductal hyperplasia but not to low-grade intraepithelial neoplasia of the breast." by Boecker / Korsching et al. has been published by Virchows Archiv.
View
2017-03-07
Congratulations to Marcin Jakalski for the successful defense of his PhD thesis.
2016-12-09
Congrats to Gesche Frohwitter, external Dr.med.dent. candidate, for her successful defense of her thesis :)
2016-08
Welcome to our institute, Mahsa :)
2016-08-04

"Comparative genomic analysis of retrogene repertoire in two green algae Volvox carteri and Chlamydomonas reinhardtii" by Jakalski et al. has been published by Biology Direct.
View
2016-07-15

"Conservation of the Exon-Intron Structure of Long Intergenic Non-Coding RNA Genes in Eutherian Mammals" by Chernikova et al. has been published by Life.
View
2016-07-13
"TMAinspiration: Decode Interdependencies in Multifactorial Tissue Microarray Data" has been published by Florian B, Horst B, Nikhil V. M and Eberhard K
View
2016-05-20
Welcome to our institute, Victoria and Philipp :)
2016-05-09
"Mycophenolic Acid and Its Derivatives as Potential Chemotherapeutic Agents Targeting Inosine Monophosphate Dehydrogenase in Trypanosoma congolense" by Suganuma, Jakalski et al. has been published in Antimicrobial Agents and Chemotherapy.
View
2016-03-14

Incomplete Lineage Sorting and Hybridization Statistics for Large-Scale Retroposon Insertion Data by Kuritzin, Kischka et al. has been published by PLoS Computational Biology.
View
2016-02-06
"Protein import complexes in the mitochondrial outer membrane of Amoebozoa representatives" by Buczek et al. has been published by BMC Genomics.
View
2016-01-18

"The second European interdisciplinary Ewing sarcoma research summit - A joint effort to deconstructing the multiple layers of a complex disease" by Korsching E and others
View
Welcome to the
Institute of Bioinformatics WWU Muenster
Bioinformatics is a research, development, or application of computational tools and approaches for expanding the use of biological data, including those to acquire, store, organize, archive, analyze, or visualize such data. Its goal is to enable biological discovery based on existing information or in other words transform biological information into knowledge. In recent years bioinformatics became integral part of biology and it is present in almost all biomedical disciplines.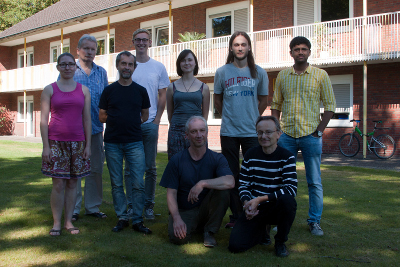 Here we are - the team, struggling for science and investing time to make the bioinformatics process going on. Our collaboration with other groups around the world (see visitors web page) brings new ideas and refines the old ones. All our work is a public domain and we don't put any restrictions on the created software and published papers. The working language of the institute is English.